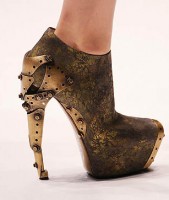 Lady Gaga was seen wearing these. What do you think?
Source
Edit:
The shoes were designed by Alexander McQueen, and those are not the kind of shoes he designed, which described as lobster claws."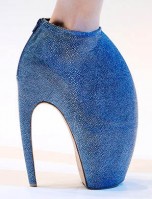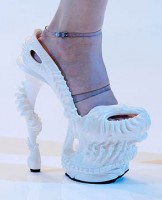 They came in three main varieties: first, ultra-high booties that looked more like prosthetic lobster claws than shoes you might see on the racks at Neiman Marcus, in keeping with the apocalyptic-aquatic theme of the show. These came in exotics, smooth leathers, and a variety of exterior embellishments, including shards of turquoise. The second type were booties that looked like something a resident in Wall-E's post-apocalyptic Earth might wear. The heels were covered in an amalgamation of industrial metal, creating perhaps the most wearable shoes of the collection. The third type were intricately carved porcelain platforms that were reminiscent of a coral reef, held on to the foot by clear plastic straps.
I especially like the second type (third pic), but it's still not something I would want to wear hehehe.
Link
.
The video Lady Gaga was seen wearing a pair is her latest video "Bad Relationship"
Just to point out, here she is wearing one of McQueen's designs: